Stake a Claim Where the Past Meets the Future
GEDC aims to hold bi-annual or annual events with presentations from Mining and Exploration Industry representatives to give the public first hand information about Mining activity that may impact the area or provide opportunities for the region. These events have been successful over the years and based on feedback received, are helpful to the public through keeping them informed and providing networking opportunities. GEDC has not held a mining information session for some time due to timing of projects and then the pandemic restrictions. Below is a list of useful links to obtain information and some of our past mining events:
Mining Resources
Ministry of Energy, Northern Development of Mines
The Mines and Minerals Division works to support responsible land use management and mineral resource development by administration of the Mining Act, providing public geoscience information and client services.
https://www.mndm.gov.on.ca/en
Thunder Bay CEDC
A wealth of mining resources, projects and news for Northwestern Ontario; in addition access their Mining Readiness Strategy Report and presentation for further information.
https://gotothunderbay.ca/key-sectors/mining/
Ontario Mining Association
Maps, Facts and Figures, Mining 101 etc.
https://www.oma.on.ca/en/ontariomining/map.asp
Mining Industry Human Resources Council (MiHR)
Mining is essential to our way of life today and to the world we want to create tomorrow. Choose a career in mining and help Canada be the world leader in safe, sustainable mining.
https://www.miningneedsyou.ca/
Greenstone Gold Mines and Equinox Gold
"Greenstone Gold Mines is a 60/40 partnership between Equinox Gold and Orion Mine Finance for the joint ownership and development of the Greenstone Project, Kenogamisis, Brookbank and Viper Properties."
http://www.greenstonegoldmines.com/
KWG Resources Inc.
"KWG Resources is an exploration stage company that is participating in the discovery, delineation and development of chromite deposits in the James Bay Lowlands of Northern Ontario, including 1,024 hectares covered by four unpatented mining claims (Fancamp Claims) approximately 280km north of Nakina, Ontario, which contains the Black Horse chromite deposit, named the "Black Horse Project" and 1,241 hectares covered by seven unpatented mining claims (Big Daddy Claims) approximately 280km north of Nakina, Ontario, which contains the Big Daddy chromite deposit, named the "Big Daddy Project"."
http://kwgresources.com/
Noront Resources
Noront Resources (TSXV:NOT) is a Canadian-based mining company, with ownership or a controlling interest of all the major discoveries in the Ring of Fire to date, an emerging multi-metals area located in the James Bay Lowlands of Northern Ontario. The company is developing resources that will be essential to a decarbonized future including, nickel, copper, chrome and platinum.
https://norontresources.com/
See below some of our past Mining events:
2021 - How to do Business with Greenstone Mine
GEDC hosted the "How to do Business with Greenstone Mine" virtual event on Thursday, September 23, 2021, 6:30 – 8:00 p.m.
The event was held in partnership with the Municipality of Greenstone and Greenstone Mine, an Equinox Gold and Orion Mine Financing Joint Venture, and included a presentation from the company about the current project and future operations work, and how to do business with them.
The session was well attended by business owners, entrepreneurs and industry representatives.
2017 - GGM Hardrock Project Information Session
On August 17, 2017 GEDC hosted an information session on Greenstone Gold Mines Hardrock Project at the Geraldton Community Centre to a crowd of over 50 attendees which included local municipal officials, business owners, community members and first nations.
Mr. Eric Lamontagne, General Manager and Mr. Ian Horne, Director of Environment and Community Relations provided updates on their 2017 Workplan, EA Update, Impacts to Local and Regional economy and their Hardrock Project Next Steps. The presentations were augmented with a video demonstration of the development activity over the life of the mine and reclamation stage, in addition to a 3D table top display model of the mine site.
The project is located on a brownfield site that was actively mined in the 1930's – 1970's; the construction of the project is anticipated to take 2 years utilizing local suppliers and contractors where possible. At full capacity the Hardrock project will process 30, 000 tonnes of ore per day and employ 450 people on average over the life of mine which is expected to be 15 years. The final Environmental Assessment (EA) which is a critical milestone for the project was submitted in July 2017 and will take until fall of 2018 for the review process to be complete.
2016 - Mining Update – Where are we Now?
The "Mining Update – Where are we Now" event was held at the Royal Canadian Legion in Geraldton on November 24, 2016. Despite a power outage, more than 85 people attended the event, which included industry, geologists, local municipal officials, community members and first nations. The event was hosted by the GEDC Business Centre in partnership with the Ontario Geological Survey and the Municipality of Greenstone.
Presentations:
To read the full press release: http://www.gedc.ca/article/mining-update--event--a-success-9545.asp
2015 - Greenstone Mineral Exploration Forum
The Greenstone Mineral Exploration Forum was held at the Kenogamisis Golf Club on July 14 and 15, 2015. More than 100 people attended the 2 day event, which included industry and government geologists, local municipal officials, interested members of the general public, youth program students from the Ginoogaming First Nation and ministers from both the federal and provincial government. The Forum was sponsored by the Greenstone Economic Development Corporation, TCP GP Corporation recently named Greenstone Gold Mines, the Municipality of Greenstone and the Ministry of Northern Development and Mines.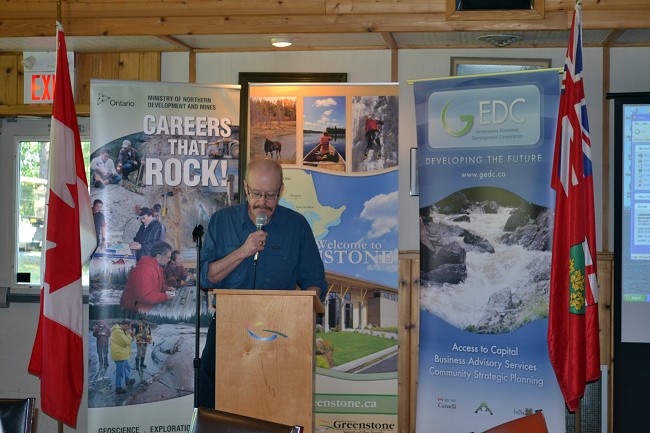 The Tuesday agenda included 4 session talks covering current exploration and development in the Greenstone area by the Ontario Geological Survey, an update on the Hardrock Project by TCP GP Corporation (Premier-Centerra Joint Venture), a presentation by Laurion Mineral Exploration Inc. related to the current metal cycle and a discussion about mine service and supply in Northwestern Ontario by the Thunder Bay Community Economic Development Corporation. In addition, both MP Greg Rickford and MPP Michael Gravelle addressed the audience and emphasized the importance of exploration and mining to the Ontario economy. Bruce Hyer, Member of Parliament for Thunder Bay – Superior North, was also in attendance.
The afternoon portion of the event included a tour of the Hardrock Project Site hosted by TCP GP Corporation. The tour started at the Interpretive Centre, followed by a stop at the Macleod-Cockshutt Headframe Heritage Outcrop to look at Iron Formation, an important rock associated with the gold mineralization in the Greenstone area. Stops were also conducted to look at mineralized rock exposures of the PH and F Zones. The last stop included a visit to the historic Glory Hole, an open stope that was mined from underground to surface during past mine activity.
On Wednesday a geological tour of the Beardmore area was led by representatives of the Ontario Geological Survey Thunder Bay office. Over 40 people took part in the tour which included stops northwest of the community and along the east shore of Lake Nipigon. A bedrock exposure of Iron Formation on the East Leitch property was visited exhibiting detailed layers of jasper, hematite and magnetite. The second stop which included a hike along the Lake Nipigon shoreline, looked at pillow-shaped volcanic rocks formed when erupted lava meets seawater, in this case 2.7 billion years ago! Also observed were outcrops of 'shattered' or brecciated pillows formed when lava with a very high gas content flows into the ocean. The last stop on the tour included a walk around the Leitch Mine property which at one time was celebrated as Ontario's richest gold mine. Some of the participants were fortunate enough to discover visible gold!
2014 - GEDC Mining Showcase
The GEDC Mining Showcase was held October 4, 2014 with mining related speakers presenting to the Business Community and public with networking opportunities. This event was a sequel to our highly successful February 2011 "Fam Tour". The event was held in partnership with the Longlac Chamber of Commerce. There were approximately 60 people in attendance representing the Business Community both locally and regionally (North Bay, Kapuskasing, Hearst, Thunder Bay), Industry, GEDC stakeholders, our sister CFDC Nord-Aski, GEDC Board and Staff Members.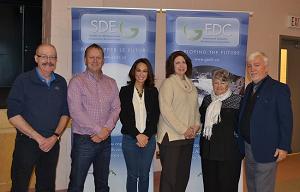 Presentations
Mr. Dave Farrell, North Superior Workforce Planning Board.- Reality Blast - Tools to supply a local workforce for the Northern Ontario Mining Sector.
Mr. Gerry White, Ontario Geological Survey -Mineral Exploration Activity in the Greenstone and Ring of Fire Area
Mrs. Dina Quenneville and Mr. Ben Cleland- Premier Gold Mines Limited – Hardrock Project
Mr. Moe Lavigne, KWG Resources Inc.- "Ring of Fire Development Challenge".
Ms. Lananh Pham and Mr. Jeff Pinksen-Zenyatta Ventures Limited - "Albany Graphite Project".

(GEDC had the privilege to host Zenyatta in their debut appearance in the Greenstone Region)
2011 -

Greenstone Region Mining Familarization Tour
In February 2011, the project brought perspective investors from the Greenstone mining sector to meet with representatives from the Ambassador Group. The individuals that attended were Joe Moses, John Beardy, Jonathon Mamakwa and Gordon Wabasse of Wasaya Airways, Lori Churchill – Team Lead - Capacity Building and Economic Development, Dr. Christine Kaszycki, the Ring of Fire Coordinator for the Ministry of Northern Development, Mines and Forestry, Gordon Bourque and Edward Cameran of SNC Lavalin, Sean Serino of Brook McIlroy / Pace Architects Moe Lavigne, Nels Ojard and Cameron Clark from KWG/Canada Chrome, Neal Westoll and Mark Baker of Noront and, Gabriel Johnson and Richard Fink of Cliffs Natural Resources.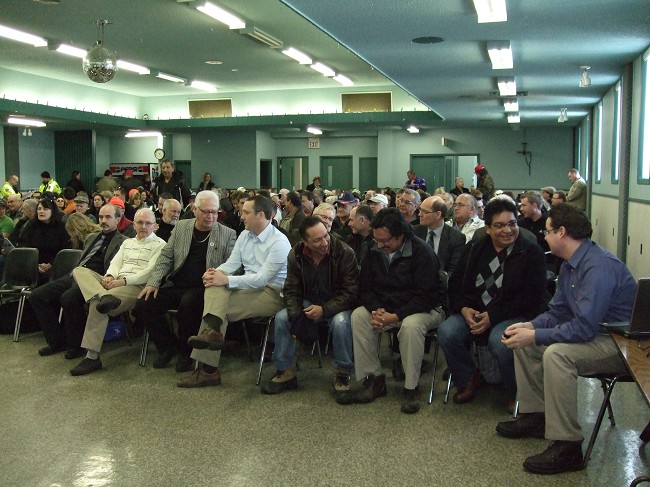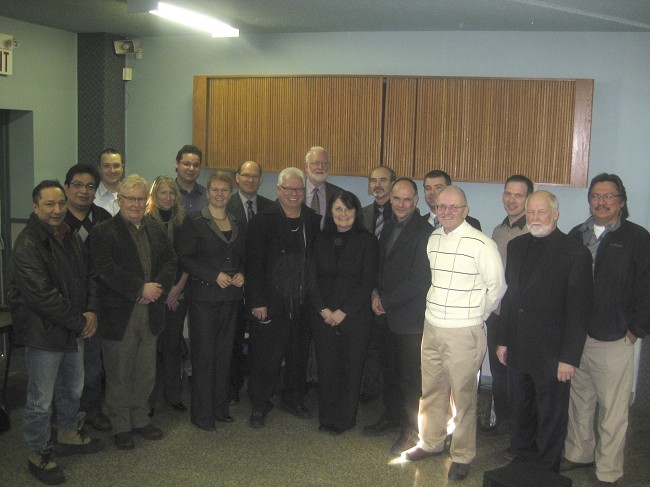 First was a physical tour of Greenstone. Next was an information session where local agencies made presentations to the mining companies. The Municipality of Greenstone, GEDC, the Ministries of Northern Development Mines and Forestry, Ministry of Training, Colleges and Universities, as well as Confederation College, the Thunderbird Friendship Centre and the Geraldton District Hospital all spoke to the mining companies about what their respective agencies have to offer. The afternoon session was open to the public, and approximately 150 people filled the room to listen to presentations by Wasaya Airways, Dr. Christine Kaszycki, KWG Canada Chrome, and Cliffs Natural Resources.
2010 - Greenstone Mining Familiarization Tour - Red Lake, ON
On November 12, 2010 19 representatives from Greenstone travelled to Red Lake, Ontario to meet with their business community and economic development officials to better understand their experience within the mining sector due to an influx of investment. The project sent the key stakeholders of the Greenstone region, including the Chambers of Commerce, Municipal Councillors, the business community and GEDC Board representatives, in a reverse trade-show experience. To be considered were: volume of products, quality of products and value-added procurement both in terms of goods and services with the goal of driving the procurement more locally. Large Corporation's procure in large volumes that are sometimes procured far away.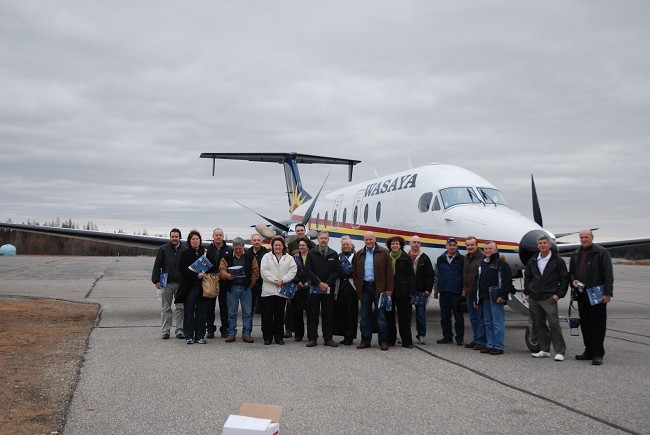 2009 - Greenstone Mineral Development Initiative (GMDI)
In 2009, GEDC finished the project after facilitating the digital compilation of all the old mining sites in the Greenstone area. The Objective was to assist in growing the region's geoscience database which coincided with Northern Development and Mines regional library. This encouraged new exploration in existing and new potential exploration sites e.g. Premier Gold Mines Limited – Hardrock Project.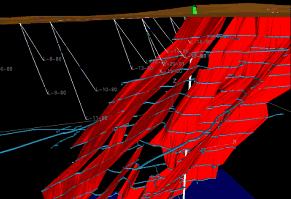 As a result of the work undertaken and completed during the Greenstone Mineral Development Initiative (GMDI), Value-added opportunities were identified. Above is an example of a 3D model of the Leitch Mine, a Roxmark Property at the time.
September 2021