GEDC hosts Small Business meet and greet.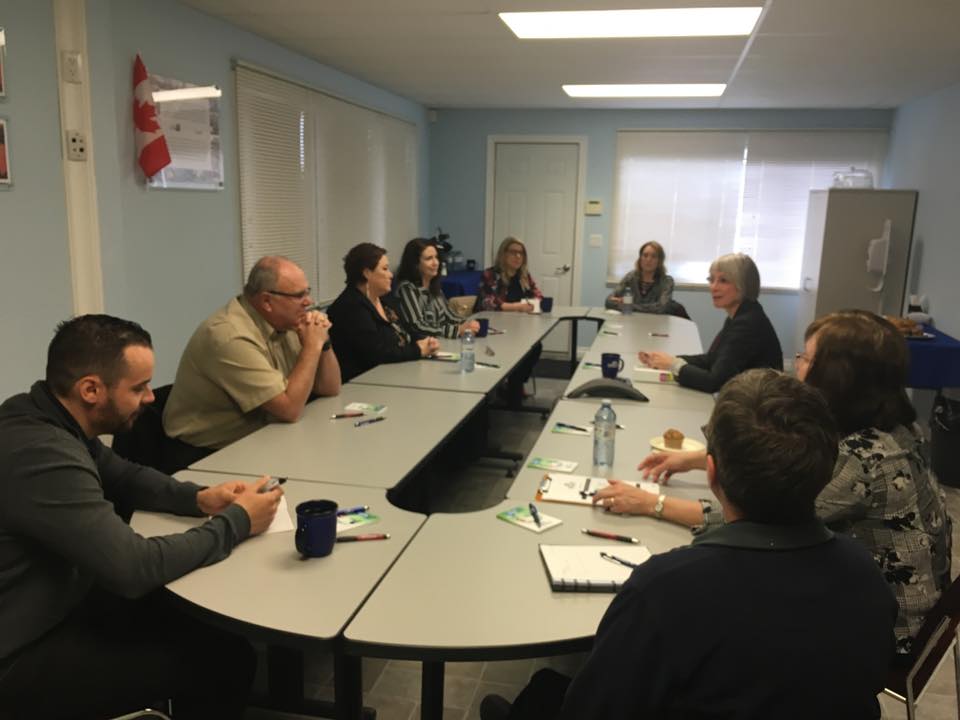 April 24, 2019 GEDC Business Centre hosted Member of Parliament Patty Hajdu for a small business meet and greet. The session provided businesses an opportunity to discuss the successes and challenges for entrepreneurs in the Greenstone Region.
Honourable Patty Hajdu, Member of Parliament for Thunder Bay-Superior North and Minister of Employment, Workforce Development and Labour led a round table discussion with the attendees gaining insight about regional issues; while providing information on programs and incentives.
Topics of conversation included but no limited to: availability and timing of appropriate skills training, workforce supply versus demand, difficulty with retention and recruitment of professionals, infrastructure needs, lack of broadband internet, Succession Planning for retiring business owners, transportation costs of goods and services, lack of local trade apprenticeships, issues with accessing and receiving follow through on regional support programs, attraction and retention of newcomers to area, lack of suitable housing, and lack of family oriented activities for newcomers.
In response to some of the issues and conversation pieces the following programs / incentives were mentioned for consideration: Business Tax Reduction percentage, Rural Economic Development Broadband Expansion funding, FedNor Growth Strategy, Universal Child Benefit Incentive, Climate Change Incentives, Immigration Pilot, Matchmaker program, Apprenticeship Strategy, Guaranteed Income Supply (GIS) for Seniors, and Home Buyer Incentives Program. For assistance and navigation of information you can contact her MP office toll-free at 1-888-266-8004.
In closing it was noted that there is opportunity here, and finding creative solutions (thinking outside of the box) to grow the community will keep people here. Time, Talent and Resources are whats needed to succeed.
GEDC pursues projects and activities based on community needs and priorities. We develop and maintain partnerships to support growth and sustainability of the region. Visit our website www.gedc.ca for more information.
May 13, 2019